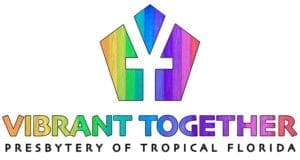 Vibrant Together – These two words describe the life of the Presbytery of Tropical Florida. 
Empowering Congregations to be Vibrant Christ-Centered Community, the Presbytery claims its mission with the following statement adopted in 2018:
The Presbytery of Tropical Florida engages, equips, and encourages vibrant Christ-centered communities to build relationships, have spiritual depth, and be missional.  Through leadership development, disciple making, vital worship, reconciliation, and clarity of identity we are Vibrant Together.
MINISTRY WORKPLAN
2022-2024
GPSC Daris shared the iteration of the current Ministry workplan, as well as the potential additional modules for the next three years.  At November Assembly, he invited the Presbytery to discuss the effectiveness of the current workplan, and the emphasis of Engage, Equip, and Encourage, with the additional themes of evangelism, the water rises, and new Christ-centered communities .  After reporting on the group discussions, the Presbytery voted to continue with the new plan.